Why is Tire Rotation Important?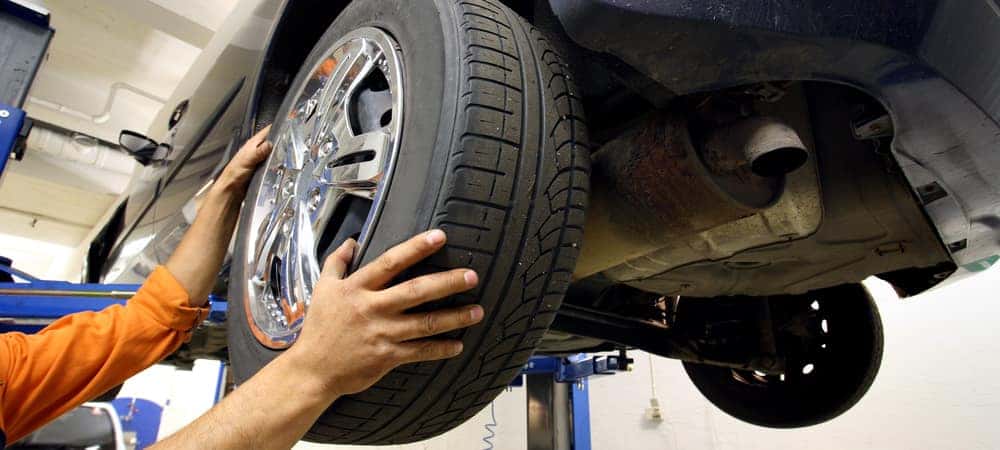 Regular tire rotations help prevent one tire from wearing out faster than another. This can not only extend the life of your tires but prevent other issues while you're on the road. Learn more about tire rotation below, then visit our Jeffrey Acura service center near St. Clair Shores when it's time for your next tire rotation!
How Does Drivetrain Affect Tire Rotation?
Driving creates friction between your tire and the road. Accelerating, braking, turning your wheels, and going around curves in Grosse Pointe all create wear on your tires. And depending on the drivetrain your vehicle has, your tire treads will wear out at different rates.
Front-wheel drive vehicle: The power of the engine is directed to the front wheels, which are responsible for steering, starting and most of the stopping force. Due to these heavy demands, the front tires wear out faster.
Rear-wheel drive vehicle: With this drivetrain, most of the power is sent to rear wheels, but the front wheels are still responsible for steering and much of braking. This causes the rear tower to wear a little more than the front, but not quite at such a rapid rate.
All-wheel drive vehicle: Engine power is more evenly distributed, but there are many experts out there that maintain that the rear tires will still wear out faster.
Intelligent all-wheel drive systems: With advanced all-wheel-drive systems, some direct power to an individual wheel while driving around a curve for better cornering, which will further affect tire life. Additionally, going around curves means different levels on strain and friction on the inside tires vs. outside tires.
What Happens if I Don't Rotate My Tires?
If you don't schedule service for tire rotation every 5,000-7,500 miles (or every time you get your oil changed), they will wear out faster than they should. Failing to properly care for your tires can lead to problems including:
Poor traction and skidding on the roads
Increased deterioration of brake pads
Flat tires and blowouts
Keep Your Vehicle in Good Shape at Jeffrey Acura
If you want to know more about tire care or get any other tips like how to care for your car in winter, come to Jeffrey Acura near Roseville. When you are ready to bring your vehicle in for the next tire rotation, be sure to browse our parts and service specials so you can get a great deal!
More Service Tips From Jeffrey Acura
Regular tire rotations help prevent one tire from wearing out faster than another. This can not only extend the life of your tires but prevent other issues while you're on the road. Learn more about tire rotation below, then visit our Jeffrey Acura service center near St. Clair Shores when it's time for your next tire rotation! Schedule…

Between the many different brands and prices, shopping for car replacement parts can really be a headache. Many customers struggle to decide between OEM vs. aftermarket parts, and it's not hard to see why. Both types have their pros and cons, and it's easy to get overwhelmed by options. At Jeffrey Acura, we strongly recommend…

When you find yourself low on gas in the West Bloomfield and Farmington Hills areas, you might find yourself with a conundrum at the pump. Should you choose the costly premium gasoline or save a few bucks with the unleaded option? The answer depends on your particular model. While most vehicles operate well with your…